Y'all remember the movie "Brown Sugar", right? Sanaa Lathan and Taye Diggs play besties who bond over hip-hop. Sanaa's character is a self-assured and serious hip-hop head named Sydney who is appointed a high-powered position at hip-hop magazine XXL. By the end of the movie, she finds love (where it usually is - right in front of her the whole damn time) and decides to step out on her own and start her own magazine.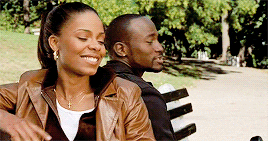 Well guess what? I met a real life maven in the music media industry! Kira Ming is such an inspiration to all the lady's in the place with the style and grace... (shout out to BIG) who have decided to follow their passions and strike out on their own.
MRTV: In cliche fashion, taking a line from the movie Brown Sugar, I have to ask, when did you first fall in love with hip-hop?
KM, GOTW: Great question. My story is a bit interesting - I actually grew up on Rock and Latin music. It wasn't until I was almost an adult that I started to remember songs that stood out to me from when I was little, songs that I heard on the radio or saw music videos for on TV. Many of those songs happened to be from Tribe Called Quest. I immediately fell in love with the genre and Hip Hop culture and decided to pretty much go back in time and discover more.
MRTV: When did you start Graffiti on the Wall and what inspired you to start a hip-hop magazine?
KM, GOTW: So I started Graffiti On The Wall about 7 years ago. Basically I had gotten the opportunity to intern with two major publications in New York, but couldn't take either of them because I couldn't relocate. Instead of getting discouraged I decided to create my own. I loved music and I loved writing so it just felt like an obvious decision for me.
MRTV: What makes Graffiti on the Wall different from other music magazines?
KM, GOTW: Love this question! There are TONS of Hip Hop publications, and they all have the exact same content. When I created Graffiti On The Wall I knew it had to be different. It had to be organic. It had to be true to who I was. It had to mean something. I connected with what people refer to now as "Real Hip Hop," which in turn resulted in me relating to a lot of Old School Hip Hop. My vision was to connect the old with the new, and include all aspects of Hip Hop culture. No gossip, no gimmicks - just focus on the art and the history.
MRTV: What do you believe is your contribution to this genre of music as an admirer and as media platform?
KM, GOTW: Media is extremely important. We are the people that share the news, that tell the story, that give the exposure, that highlight the talent. Believe it or not journalists of every kind have a lot of power. I mean just look at what's going on today in politics and the coverage. The same goes for the music industry.