Litty Board, 'Level Up Your Vision Board' with this Black-Owned Invention
Photo Credit: LIttyBoard.com
The average do-it-yourself vision board only has pictures of things you want; it doesn't give you a solid way to actually make things happen. Nashville-based African American entrepreneur Alyse Howard solves this problem with THE LITTY BOARD™. "We all want to be 'lit' and successful. It takes a plan and consistent action to get there, though," says Alyse. "My product helps to connect the dots for you. It's a vision board on the next level."
Handling triple duties as a vision board, planning/organizing tool and attractive wall art, THE LITTY BOARD™ is perfect for ambitious goal-diggers determined to make their dreams a reality. Each handmade board features a magnetic surface, inspirational graphic background, sparkly divider lines and 13 sections with customizable (and replaceable) label headers. The largest section can be used as a traditional vision board by putting up images with tape or magnets.
But what sets THE LITTY BOARD™ apart is the space it gives you to create a plan and break it down into categories that are easy to attack. It's suggested that you label the bottom five sections as 'Monday through Friday' at purchase. To use the board, you write tasks/ideas on sticky notes and place them under the section they relate to. Then you move sticky notes to the day of the week you will work on that task. The workflow is effortless and intuitive.
The first design is dubbed The Blewface in honor of the $100 bill and comes in five colorways. Alyse calls THE LITTY BOARD™ 'productive art' because not only does the sleek silhouette look great hanging on your wall, it also inspires you to take action towards achieving your vision.
Photo Credit: LittyBoard.com
"Why do rappers take pictures with money phones? There's a deeper message there. They're saying 'the money is calling' – and they answer that call through action, by using their hustle and creativity," said Alyse when asked how she came up with her first design. "THE LITTY BOARD™ puts images of your dream life side-by-side with the steps you need to take to get there. And Benjamin Franklin is just staring at you in the background like, 'Do you really want it? How hard are you willing to work for it?'"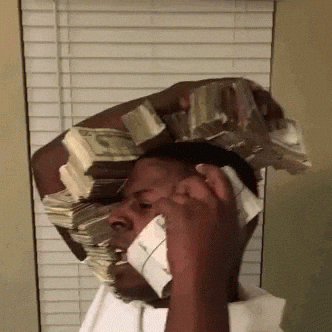 The Blewface is the first of many upcoming designs, including collaborations with popular brands. As the product's buzz steadily increases, Alyse is still taking it all in: "The initial reaction has been overwhelming. My customers are so creative and smart; they inspire me. They're dope."